I probably should have put this up a couple of weeks ago, but I've been busy (mostly wallowing in self-pity as I am wont to do). So here's what I'm most looking forward to in 2019!
Obligatory disclaimer: Sometimes stuff misses its release date. It's possible that anything I've listed here may actually end up coming out in 2019. Or maybe it won't even come out at all (RIP S2 of The Wolf Among Us). Don't sue me.
10. In the Valley of the Gods
In all honesty, it's a little worrying that Valve has bought out Campo Santo, the makers of my 2016 game of the year, Firewatch. But development was already well underway before the buyout, so I trust that this isn't going to be yet another microtransaction farm. Rodkin, Vanaman, and Co. know how to weave a good narrative adventure, and I trust them fully. Here's a trailer:
9. Ori and the Will of the Wisps
The first Ori game was a cracking good time, some absurd difficulty spikes notwithstanding, and Will of the Wisps looks like it's going to be more of the same goodness. It looks gorgeous and sounds gorgeous, and I'm sure it's hard as balls too. Have a gameplay trailer:
8. Kakegurui xx
Kakegurui is back for a second season, and hey, sometimes more of the same is enough. I enjoyed this deliciously twisted gambling anime, nonsensical as it was, and I'm interested to see what ridiculous shit Yumeko Jabami pulls next. Here's a trailer, though unfortunately, there are no English subtitles, and no English release date has been confirmed yet.
7. Biomutant
What if Redwall, but ultra-violent and comic-booky? Yep, I'm all about this wacky post-apocalyptic action RPG. I mean, there are cute, furry creatures piloting rusty mechs. What more could a guy ask for? Here's a gameplay trailer:
6. Spider-Man: Far From Home
Yes, the European setting is probably just an excuse for Tom Holland to break out his natural accent. But who cares? The MCU has thus far had very few missteps, and Homecoming was the best live-action Spider-Man film ever released. I have high hopes for its sequel. Here's the trailer:
5. Weathering With You
Makoto Shinkai turned a lot of heads with his 2016 masterpiece, Your Name, making his next film, the upcoming Weathering With You, probably the most anticipated anime film of 2019. Shinkai is the rare director who seems to improve with every film (leaving aside the monotonous, Ghibli-aping Children Who Chase Lost Voices), so Weathering is bound to be a treat. There's no trailer yet, so here's some promotional art:
4. Daemon X Machina
It's aggressive, visually arresting, and super stylish. I haven't played too many mech combat games, but this looks like it's going to be a perfect addition to my Switch library. Here's a trailer:
3. Kimi to, Nami ni Noretara
The title of the film translates to "If I Could Ride a Wave with You," and it tells the story of a romance between a surfer and a firefighter. Masaaki Yuasa is hit-or-miss as a director (Mind Game and Devilman Crybaby aren't good; The Night Is Short, Walk on Girl and Lu Over the Wall are brilliant) but with a foot planted firmly in the realm of dramedy, Yuasa seems to find his footing. Plus, with veteran screenwriter Reiko Yoshida on board, this film should turn out fine. Again, no trailer, so here's some promotional art: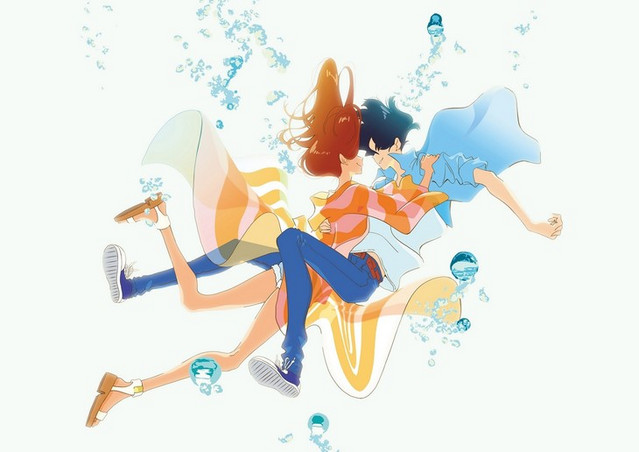 2. Everything Not Saved Will Be Lost by Foals
There was reason to worry about Foals' upcoming work. Without longtime bassist Walter Gervers anchoring the rhythm section, how would their music turn out? If the lead single from their upcoming two-part album cycle, "Exits," is anything to go by, then my worries were unfounded. This is good stuff. Here's the music video for "Exits":
1. Psychonauts 2
To this day, 2005's Psychonauts remains one of my favourite video games of all time. 14 years later, we're finally getting a sequel to the adventure-platformer, and I couldn't be more excited. Here's a trailer:
Honourable mentions
I've got a pretty big list here, so of course I've divided it up by category.
Anime series:
The Hi-Score Girl OVA episodes
Revisions
7 Seeds
Movies:
Avengers: Endgame
Shazam!
Music:
American Football
Mineral
TV/Web series:
Camp Camp, season 4 [Rooster Teeth, VRV]
iZombie, season 5 [The CW]
Marvel's Agents of S.H.I.E.L.D., season 6 [ABC]
The return of RT Shorts [Rooster Teeth, VRV]
The Umbrella Academy [Netflix]
Video games:
The Arftul Escape of Francis Vendetti
Atomic Heart
The Caligula Effect: Overdose
Consortium: The Tower
Control
Cyberpunk 2077
Digimon Survive
Fire Emblem: Three Houses
Granblue Fantasy: Relink
Ghost of Tsushima
Heaven's Vault
Jenny LeClue – Detectivú
Judgment
Kentucky Route Zero, Act V
Life Is Strange 2, Episodes 3-5 [I still have to play the first two episodes!]
Miegakure
Manifold Garden
Necrobarista
One Piece: World Seeker
Sable
Star Wars Jedi: Fallen Order
Untitled Goose Game
Untitled Pokémon game
Wolfenstein: Youngblood
Yoshi's Crafted World
Zanki Zero: Last Beginning
Here's hoping that all of this stuff turns out to be good. (And also that I'll have enough time to consume it all.)